I fish in the Kennebec River and the areas of Casco Bay and Saco Bay. In June, I take advantage of the "single artificial hook, catch and release" status of Maine's world class fishery on the Kennebec River out of Bath. As the summer progresses and through Oct 15, I fish out of Scarborough Maine, from Pine Point. This is located 10 miles south of Portland, and less than 20 miles north of Kennebunk. This is another incredible fishery. We can fish rocky shoreline and clear sandy bottomed beaches in the same day. This area is not readily accessed except by trailered boats, this will ensure that we have an uncrowded experience. The trips are dictated by the tide, sun, and patterns of the fish. I have been fishing all over Maine and this is the most productive waters that we have, consistently. We also have a chance to fish for bluefish, and the opportunities present themselves to attempt a bluefin tuna on the fly more every year!
Flies and Gear
All my flies are custom tied for me by a few excellent tiers that I have worked with for years. Some of them are available for purchase through their websites, some are kept confidential. www.muddogflies.com and www.ssflies.com I am an Orvis endorsed fly fishing guide and carry a full complement of their latest gear. Come try the new Zero G!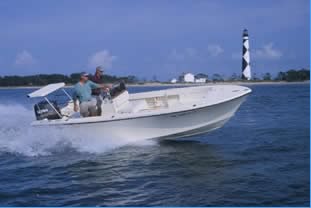 What to bring:
Rods 7-10wt with intermediate to full sink lines
Sunscreen
Lunch or breakfast
Hat
Polarized sunglasses
Boat
We will fish from my 20' Jones Brothers cape fisherman 1910LT; this is the "ultimate big water fly fishing/light tackle boat." This boat will put us where we need to be in comfort.